Naval (RAN) Logistic Support Vietnam War
Submitted by Stones on Fri, 09/01/2015 - 09:09
The RAN played a major part in the logistic support of the Australian Force Vietnam from May 1965 when the troop transport HMAS Sydney conveyed the first Australian Army combat battalion to Vietnam, until March 1972 when she brought back the last Army contingent.
As well as transporting soldiers, Sydney carried Army vehicles, field artillery, helicopters and smaller items of military stores in her twenty-two Vietnam voyages.
Sydney was supplemented by the Australian National Line vessel MV Jeparit (commissioned into the RAN in December 1969) which made forty-two voyages from June 1966 to March 19721; another Australian National Line ship, MV Bconaroo (commissioned into the RAN in March 1967) which made two voyages; and the Australian Army vessel John Monash.
Other freight was carried to Vietnam by RAAF Cl30 Hercules transport aircraft which brought back servicemen on the return journey to Australia and evacuated injured personnel. Service personnel were also carried to and from Vietnam in chartered Qantas aircraft.
Sea transport officers, seconded from the Department of Shipping and Transport and the Australian National Line, were sent to Vietnam to supervise the cargo operations of Jeparit and Boonaroo.
The successful assumption of a logistic support role by the RAN marked the first time since troop transports were commissioned in World War II that the Navy had conveyed Australian troops and their fighting equipment to a war zone. The logistic support of Australian Force Vietnam was an unspectacular but by no means unimportant part of the RAN Vietnam commitment. Its value was recognised by Mr. Fairbairn, Minister for Defence, who stated in Parliament on March 28, 1972: 'There will be a continuing requirement for strategic and tactical transport forces, both air and naval'
From May 1965 to March 1972, Sydney transported 15,600 soldiers, and with Jeparit and Boonaroo carried 186,000 tons of cargo and about 2400 vehicles, and steamed some 752,800 miles.
HMAS Sydney
The troop transport, HMAS Sydney, became the first RAN ship to see operational service in the Vietnam War when she conveyed the main body of the 1st Battalion, Royal Australian Regiment from Sydney to Vung Tau in May 1965. From then on, she made another twenty-one voyages, completing her last voyage home in March 1972.
In early May 1965, Sydney was in refit in Captain Cook Dock, Garden Island Dockyard, Sydney, when her commanding officer, Captain G. J. B. Crabb, DSC, was informed that the ship would be required to sail for Vietnam. The refit was rapidly curtailed, painting completed, storing begun, 153 sailors were recalled from leave to give Sydney her full peace-time complement, and the ship prepared for sea trials. By May 26, loading of cargo and Army vehicles was complete, and the soldiers of the 1st Battalion RAR embarked that afternoon. Sydney sailed for Vietnam at 0100 on May 27, escorted by the destroyer HMAS Duchess.
The length of a round-trip to Vietnam varied depending on the number of ports called at between Sydney and Vung Tau, but a typical voyage was eleven or twelve days to Vietnam, a day in Vung Tau and eleven or twelve days on the return journey. The embarkation of a battalion in an Australian port took half a day, while in Vung Tau the arriving battalion was disembarked, the departing battalion embarked, and freight unloaded in about the same time.
 
Soldiers at sea
On a typical voyage, Sydney carried about 450 soldiers (i.e. a battalion less its advance and rear parties) who were accommodated in the sailors' mess decks, while the sailors vacated their berths to sleep on stretchers and in hammocks slung between scaffolding temporarily erected on the hangar decks. The non-air-conditioned Sydney was not a comfortable ship in the tropics as its 56,000 square foot flight deck absorbed heat to the extent that on occasion temperatures climbed to more than 110°F.
The soldier's day in Sydney (known variously to her military passengers as the 'Slow Boat to lndo-China', the 'Port Jackson-Vung Tau ferry', or 'Her Majesty's Army Ship') was occupied with a morning parade on the flight deck, physical training, sport, and small arms firing at balloons partially filled with water which were thrown over the ship's stern. Army cooks assisted Sydney's cooks in the galley, and volunteers helped Sydney's crew with routine tasks on the voyage. If an escorting destroyer was present, soldiers were transferred to it by jackstay for a day's visit. Sydney carried a small Army ship's staff, commanded by a major, who maintained liaison with the Army authorities on shore, assisted with the stowage of military cargo, and helped the embarked soldiers adjust to the ship's routine.
Cargo
Sydney's major cargoes were trucks, Land Rovers, armoured personnel carriers, field artillery pieces and helicopters for the Australian Force Vietnam. As well, vehicles and other supplies were conveyed to Vietnam for Australian-supported civil aid projects, and to Singapore for the ANZUK force.
Vehicles were usually transported as deck cargo after being driven onto the ship's upper deck, while much of the remaining cargo was taken in containers and stowed in the hangar.
To ensure a quick turnaround at Vung Tau, Sydney's cargo officer was sent ahead by air to Saigon to make arrangements with Australian Force Headquarters and United States and Vietnamese authorities.
Unloading at Vung Tau
On arrival at Vung Tau, Sydney anchored in the outer anchorage, about three miles off 'VC Hill', VungTau, the base of CDT3.
Precautions were taken against enemy swimmer/ sappers by having the ship's divers work in a two watch system so that one diving party cruised around the ship continuously, carrying out searches of the hull and anchor cable as required. Armed sentries were posted ready to fire on a detected swimmer.
The methods of taking Sydney's troops and freight from the ship to Vung Tau varied with the transport vessels and helicopters available.
The disembarking soldiers were taken ashore in lighters towed by tugs, Sydney's own LCMs1 (she was equipped with six in her 1967 refit) and, in Sydney's later voyages, by US Army Chinook helicopters. If a shuttle service of Chinooks was used, the troops (twenty-seven in each flight) were taken directly to the 1st Australian Task Force base at Nui Dat, and the outgoing battalion was brought from Nui Dat straight to Sydney. RAAF Iroquois helicopters were used instead of Chinooks in Sydney's last voyage. Armoured personnel carriers and container cargo were loaded onto lighters for delivery to the Vung Tau sub-port, while trucks and field-guns were either taken from ship to shore on barges, or, by late 1967, lifted ashore by US Army Skycrane helicopters. The RAAF and Army Aviation Corps helicopters brought from Australia flew from the ship to the 1st Australian Logistic Support Group base at Vung Tau.
In the early voyages, Sydney's turnaround in Vung Tau took two days, but in the later voyages, the continuous shuttling of barges, LCMs, and helicopters had reduced the time taken for loading and unloading to about five hours.
725 Squadron
While HMAS Melbourne underwent a long refit from October 1967 to February, 1969, some of her Wessex helicopters were embarked in Sydney. 725 Squadron supplied the first flight of four helicopters, and 817 Squadron, the second flight. The helicopters were ready to provide an anti-submarine warfare screen if required on the voyage, and carried out this task as Sydney arrived and departed from Vung Tau.
Training Ship
Sydney continued to function as a training ship throughout the period of her Vietnam service. About twenty midshipmen and more than 100 junior sailors were training at any one time. The junior officers gained experience in their specialist subjects, in taking charge of the ship's *Landing Craft Mechanised.
 
LCMs, and a vital part of their training was bridge watchkeeping. The young sailors, who had completed their recruit training ashore, learnt the essential duties of their various branches under the supervision of experienced petty officers.
President Thieu on board
Sydney arrived at Vung Tau on December 8,1971 to bring home the last infantry battalion—the 4th Battalion, Royal Australian Regiment, the 104th Battery Royal Australian Artillery, and 9 Squadron RAAF with its sixteen Iroquois helicopters. When the troops were embarked, Sydney was honoured by a visit from President Nguyen Van Thieu who came to farewell the soldiers, and to extend the thanks of his country for the sacrifices made and help rendered by the Australian Forces since 1962.
The President inspected a RAN Royal Guard and the assembled men of the battalion, battery and 9 Squadron before addressing them on the flight deck. He then lunched on board as the guest of Captain R. J. Scrivenor.
On February 29, 1972, Sydney left Vung Tau on the return leg of her last troop-carrying voyage.1 Embarked were 457 soldiers, seventy vehicles, and 102 containers. Except for a small group of advisers who were withdrawn in December 1972, the last of the Australian Army Vietnam force was on its way home.
Sydney's first four voyages took place before the introduction of the Australian White Ensign on March 1, 1967, and thus she was the only RAN ship to have worn both the White Ensign and the Australian White Ensign in the Vietnam War. Sydney and the destroyer HMAS V.endetta, which both carried out patrols in Malaysian waters during confrontation and undertook a combat tour to Vietnam, have the distinction of being the only ships of the RAN to have worn the two ensigns on operational service.
Sydney made one further voyage to Vietnam in November 1972 with a foreign and defence aid cargo for South Vietnam and the Khmer Republic (Cambodia). As this voyage was not related to the logistic support of the Australian Force Vietnam, and as Sydney did not transport Australian troops, it is not considered to fall within the compass of Sydney's role in the Vietnam War.
HMAS Jeparit
General purpose bulk carrier
Length: 435 ft. 6 in.
Gross tonnage: 6341 tons.
Built: 1964, for Australian Coastal Shipping Commission (Australian National Line) by Evans Deakin & Co. Pty. Ltd., Brisbane.
Machinery: One 6-cylinder Sulzer RD56 diesel engine developing 4500 hp. and 13.5 knots.
Four cargo holds: Total capacity 376,580 cu. ft. Normal complement: 38 men.
Commissioned: December 11, 1969.
HMAS Jeparit
Jeparit, a 6341-ton Australian National Line coastal cargo ship, was chartered by the Department of Shipping and Transport on June 9, 1966 on behalf of the Department of the Army to convey equipment and supplies to Vietnam for the use of the first two Australian Army battalions.
In August 1966, Jeparit was chartered on a continuing basis and operated between Australia and South Vietnam regularly until March 1972.
Jeparit's Vietnam cargoes included Army vehicles and Centurion tanks, ammunition, civil aid material, and canteen supplies.
Vehicles and ammunition were often taken to Singapore, (en route to Vietnam) for the ANZUK force, and spare parts, stores and 4.5-inch ammunition were conveyed to Subic Bay for use by HMAS Vendetta in her Vietnam deployment.
In South Vietnam, Jeparit usually unloaded at the De Long pier in the Vung Tau sub-port, but on occasion discharged cargo at Cam Ranh Bay.
Jeparit soon became known to Australian troops as 'the big J' and the passage of time to her arrival was marked by 'J-days'; 'J minus 10' for example, meaning ten days to her arrival with welcome 
supplies (especially Australian beer) for the Australian Services Canteen Organisation (ASCO).
In early March 1967, Jeparit arrived at Sydney, completing her fifth Vietnam voyage a week after the commissioning of Boonaroo on the 1st. Seamen's Union members refused to man Jeparit but members of other maritime unions chose to remain on board. On March 9, 1967, the Minister for the Navy announced that eighteen members of the Seamen's Union would be replaced by a detachment of one RAN officer and seventeen sailors, and they were embarked the same day.
The first RAN detachment was under the command of Lieutenant R. E. Winter with Chief Petty Officer R. U. Ware as the senior sailor.
The officer-in-charge RAN detachment was responsible for the administration, discipline and welfare of the sailors, and was required to assist the ship's master in all matters connected with the working of the ship by RAN personnel.
When Lieutenant Commander J. F. Quinn who held an RANR (S) commission, was appointed in command in early 1971, the disciplinary powers were removed from the officer-in-charge of the detachment and vested in the commanding officer.
The difference between civilian and naval seaman's pay (at $24.20 per day) was paid into the RAN ReliefTrust Fund. This arrangement operated satisfactorily for more than two and a half years.
On December 10, 1969, arising from the refusal of Sydney Waterside Workers to work the ship, the Minister for Labour and National Service announced that Jeparit would be commissioned into the RAN, and would be loaded and unloaded by Service personnel.
Jeparit was commissioned on December 11 by Commander R. E. Bourke RAN who was relieved in command the next day by the ship's master, Captain A. A. C. Philip, newly commissioned as a Commander RANVR. The RAN detachment remained on board with the civilian crew of nineteen officers and men electing to remain also.
While the Naval Board became responsible for the operation of the ship from December 11, 1969, stevedoring and associated cargo handling activities remained with the Army, assisted by civilian stevedoring supervisors, foremen and tally clerks.
Jeparit completed her last voyage, her seventeenth voyage wearing the Australian White Ensign, on March 11, 1972, and was paid off at Sydney on the 15th.
Military supplies and civil aid cargoes carried to South Vietnam in Jeparit's forty-three voyages totalled 173,820 tons.
 
HMAS Boonaroo
Length: 391 ft.
Gross tonnage: 3904 tons.
Built: 1953, for Australian Coastal Shipping Commission (Australian National Line) by Mort's Dock and Engineering Co. Sydney.
Machinery: Two 4-cylinder Doxford diesel engines developing 2450 hp.
Speed: 12 knots.
Commissioned: March 1, 1967.
Sold: 1970, to Collin Navigation Co., Hong Kong, renamed Collin Four.
HMAS Boonaroo
HMAS Boonaroo was the first ship of the RAN to be commissioned under the new Australian White Ensign. She made one trip as an RAN ship and was then returned to the Australian National Line
MV Boonaroo, a 3904-ton coastal cargo ship of the Australian National Line, made her first voyage to Vietnam with a military cargo in May 1966. In late February 1967, she left Sydney on her second voyage, calling at Melbourne to load additional cargo. At Melbourne, on March 1, 1967, Boonaroo was commissioned into the RAN after members of the Seamen's Union refused to sail her to Vietnam with the increased cargo of RAAF ordnance. The master of Boonaroo, Captain P. Grimanes, was relieved by Commander P. R. Burnett and, except 
for two engineer officers with naval reserve commissions, the crew was replaced by RAN officers and sailors.
HMAS Bootiaroo was the first ship of the RAN to be commissioned under the new Australian White Ensign which was first hoisted in the Fleet at 0900 on March 1.
Bootiaroo left Point Wilson, Victoria, for Vietnam on March 10. She was unloaded at Cam Ranh Bay, Khanh Hoa province, by personnel of the US Army 24th Terminal Transport Battalion, and returned to Melbourne via Singapore, Darwin and Sydney.
Bootiaroo covered 10,655 miles on her solitary voyage as an RAN ship and on May 8 paid off at Melbourne, being returned to the Australian National Line.
Sea Transport Officers
The deployment of the 1st Australian Task Force to Vietnam in mid-1966 caused a marked increase in the volume of military cargo being sent to Vietnam from Australia.
In early 1966, the Department of Shipping and Transport1 responsible for the chartering of shipping for defence purposes, allocated departmental officers to supervise the loading of MV Bootiaroo and MV Jeparit in Australia, and to travel to Vung Tau to ensure a speedy turn-round of the ships there.
Sea transport officers were responsible for coordinating all arrangements between Vietnamese, Australian and American authorities in Saigon and Vung Tau so that military cargoes from Jeparit and Australian Army vessels would be handled quickly, and processed through customs with the minimum of delay. Because it was considered that sea transport duties in a war zone should not be carried out by civilians, arrangements were made with the Department of the Navy for sea transport officers to be commissioned in the RANVR for service in
 
South Vietnam. If a sea transport officer was already commissioned in the RANR or RANR (S), he remained in that branch of the Naval Reserves. In July 1966, three officers of the Department of Shipping and Transport were commissioned in the RANVR (Special Branch).
In September 1966, Lieutenant Commander R. F. Wills began a six month tour of duty in South Vietnam. Lieutenant Commander P. M. Horni-blow, on leave of absence from the Australian National Line, followed Lieutenant Commander Wills in February 1967.
In March 1967, when the newly commissioned HMAS Boonaroo loaded cargo for South Vietnam, Commander T. Morehead went to South Vietnam to supervise the discharge of her cargo, as she was scheduled to reach Vietnam at the same time as MV Jeparit.
After Lieutenant Commander Horniblow returned to Australia, the six-month postings were abandoned in favour of a sea transport officer flying to Vietnam a few days ahead of Jeparit's arrival and returning to Australia when the ship's cargo had been handled. A number of visits were made by Lieutenant Commander M. R. Hawes and Lieutenant Commander N. A. MacMillan. These officers also arranged and supervised cargo for Jeparit at Sydney.
By June 1970, it was considered no longer necessary for the sea transport officers to travel to South Vietnam unless particular problems required their presence. One such difficulty occurred in September 1971, when Jeparit was unable to bring Army tanks back to Australia because maritime unions refused to operate the cranes needed to unload the tanks in Sydney, and the ship's own gear was insufficient to cope with the task. A vessel with stronger gear, the MV Harima Maru, was chartered, and Lieutenant Commander N. A. MacMillan visited Vietnam to supervise the loading operation. He also supervised the loading in South Vietnam of other Army equipment and stores and returned to Australia in Jeparit in October 1971.
 
Naval Staff Office - HQ Australian Force Vietnam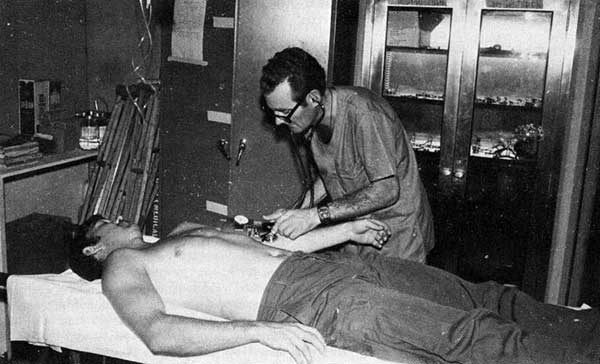 The increasing involvement of the RAN in the Vietnam war required the appointment of a RAN officer to the staff of the Commander, Australian Force Vietnam. Lieutenant Commander D. C. Bennett, with Chief Petty Officer K. Gardiner as the first writer, joined Headquarters, Australian Force Vietnam, on October 3, 1967, setting up an office in the Free World Military Assistance Organisation Building, Cholon.
The naval staff officer was required to advise the commander of the Australian force on naval matters and to assist with the administration of RANHFV, CDT3 and detached RAN personnel. In addition, he assisted with the movement of personnel, mail and stores to the ships 'on the gunline'.
At the weekly HQAFV intelligence briefings, the naval staff officer presented an outline of naval operations ashore and afloat. Regular visits were made to RANHFV, CDT3, the destroyers, HMAS Sydney and HMAS Jeparit to ensure the adequacy of administrative arrangements for each unit.
 
After RANHFV and CDT3 had left Vietnam, the naval staff office was closed on August 12, 1971, and the Australian Army assumed responsibility for matters affecting the movements of mail, stores and personnel for the last destroyer, HMAS Brisbane.
DETACHED MEDICAL OFFICERS
The medical branch of the RAN was represented ashore in Vietnam by thirteen RAN, RANR, and RANVR medical officers posted for service in the 1st Australian Field Hospital, and US Army and Navy hospitals. Their tour of duty was usually of four months.
Each destroyer carried a medical officer and some of these left their ships for short periods to assist with Medical Civil Action Program (MEDCAP) projects on shore. This occurred only while the ship was nearby, so that the medical officer could return at short notice.
Surgeon Commander R. J. Gray, the first medical Surgeon Lieutenant D. I. F. Laing, an RAN medical officer sent to Vietnam in 1970, examines a child during a MEDCAP clinic.officer to serve ashore in Vietnam, spent an initial period of five weeks at the 1st Australian Field Hospital, Vung Tau, followed by another five weeks at the large US Naval Support Activity hospital at Da Nang where he joined forty-six physicians and surgeons in treating a constant stream of battle casualties brought to the hospital by medical evacuation (MEDEVAC) helicopter.
The medical officers who followed him included RANR and RANVR officers who were specialist anaesthetists in civilian life, as well as another seven RAN officers.
MEDEVAC helicopters, first used in the Korean War, have revolutionised the treatment of war wounded by eliminating the traditional progress of a wounded soldier from aid post to casualty clearing station to field hospital—a progress which many wounded men did not survive.
The wounded are collected on the battle field by helicopter and taken directly to a field hospital or base hospital, often within half an hour of being wounded.
At the hospital, the casualties are received in the 'triage', originally an area in which casualties were received and sorted for further treatment, but now the term used for a reception area where the .casualty is resuscitated if necessary, has his blood volume restored, and is prepared for surgery.
In naval surgery the treatment of casualties has always been an immediate situation within the confines of a ship, with the surgeon close to the injured often having to treat a large number of casualties at one time. The MEDEVAC helicopter has made the treatment of battle wounded analogous to the naval casualty situation, and for this reason, experience in modern triage procedures was directly relevant to RAN medical practice.
The RAN provided an Epstein-Macintosh-Oxford anaesthetic machine for the first Australian surgical team which went to Vietnam in 1964. Surgeon Lieutenant Commander J. Villiers, who served with this team as an anaesthetist, returned in 1970 as an anaesthetist to the Australian Army 1st Australian Field Hospital at Vung Tau.
The 1st Australian Field Hospital of 120 beds was set up in the Australian Logistic Support Group at Vung Tau and staffed with nine medical officers. Four positions were filled by medical and surgical specialists of the Citizen Military Forces on three month tours of duty, and it was some of these billets that were taken up by RAN and Reserve medical officers. Junior RAN medical officers with their RAAMC fellows took charge of emergency cases in the triage, became surgical registrars and anaesthetists, and took daily sick parades. Experience at the 1st Australian Field Hospital was not confined to war surgery as a great variety of tropical diseases were treated as well as venereal disease and psychiatric disturbances.
For most medical officers, the tour of duty in Vietnam included MEDCAPs in the villages of Phuoc Tuy province and secondment to a US Army hospital, usually the 24th Evacuation Hospital at Long Binh, twelve miles from Saigon.
CHAPLAINS
Although chaplains were not borne on the complement of the destroyers deployed to Vietnam, the Fleet chaplains were required to give as much coverage as possible to personnel in the combat area. Eight RAN chaplains made visits of some length to ships 'on the gunline', CDT3 and RAN-HFV.
HMAS Sydney's chaplains made visits to personnel ashore during the ship's short stays in the Vung Tau anchorage.
The ministry of the chaplains was not restricted to RAN units. Chaplains visiting RANHFV attended to the needs of US Army personnel, while those temporarily attached to the destroyers also visited US Navy warships.