Loss of HMAS Canberra at Savo Island
Submitted by Stones on Sat, 12/05/2012 - 11:28
The Guadalcanal Campaign
The Battle Of Savo Island & Loss Of HMAS Canberra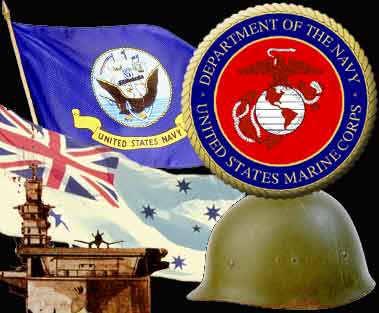 Video - Loss of Canberra and Controversy
In August 1942 a powerful fleet comprising 48 combat ships, including the US Aircraft Carriers Wasp, Saratoga and Enterprise and the new battleship North Carolina, began to assemble for the invasion of the Solomon Islands. The Royal Australian Navy was represented by the cruisers Australia (Captain H. B. Farncomb); Canberra (Captain F. E. Getting and Hobart (Captain H. A. Showers). Commanding the Australian cruisers and five American cruisers was Rear-Admiral Victor Crutchley RN, who in June had succeeded the Australian born Rear-Admiral Crace RN, as the commander of the Australian Squadron. He was responsible for the safe arrival in the combat area of the troopships carrying the assault force of some 16000 US marines. Australian ground forces were at this time busy holding the Japs back on the Kokoda Trek in New Guinea.
The invaders achieved complete surprise as they approached the shores of Guadalcanal over a smooth sea and under a clear sky. HMAS Australia and USS Quincy opened fire at 6.13 a.rn. and at 6.23 a.m. and shortly afterwards at dawn on 7 August, the first waves of US Marines landed at Guadalcanal and Tulagi, and soon secured the sites. The first wave of marines went ashore near Lunga Point without opposition and next day the marines occupied the airstrip. Opposition at Tulagi was strong but was soon crushed
The Japanese reaction was immediate. Hastily organising a surface strike force of seven cruisers and a destroyer, they began to attack the Allied force without delay. It was a bold decision as it involved steaming in broad daylight down the length of 'The Slot' between the Solomons. Incredibly, the sole sighting of the approaching enemy force - by an RAAF Catalina - was not passed on to Allied leaders. The Americans had split their forces into three groups. Two were guarding the channels on either side of Savo Island. AUSTRALIA in company with CANBERRA, CHICAGO and two destroyers, patrolled the southern channel, while the northern channel was guarded by the US cruisers VINCENNES, ASTORIA and QUINCY, and two destroyers.
At great personal peril a number of Australians of the RAN's Coastwatcher Service had remained behind in the Solomons, New Britain and New Guinea after the Japanese occupation and had maintained a lonely vigil gathering information on enemy movements, strengths and activities, which they passed on to the Allies by tele-radio. They saved the lives of scores of shot-down airmen and stranded sailors (including Lieutenant John Kennedy of the US navy, later to be President of the United States). Some went ashore as guides to the first waves of marines when they invaded at Guadalcanal.
The first reaction of the Japanese when news of the American landing at Guadalcanal - Tulagi reached their main base, Rabaul, was to despatch an air striking force of 27 bombers and 17 fighters to attack the invaders.
The air striking force took off from Rabaul at 9.30a.m. on 7th August and was seen by Coast-watcher Lieutenant Paul Mason as the aircraft flew over south Bougainville. At 11:37a.m. the Allied ships at Guadalcanal heard his direct voice transmitting the warning: 'From STO. Twenty-four bombers headed yours.'
The raiders were still 5 - 10 kilornetres from their objective when Mason's warning was received and by the time they arrived over Guadalcanal all Allied ships were under way and carrier fighter aircraft were in position to intercept. The enemy lost 5 bombers and 2 fighters. The Coastwatchers were to provide many such timely warnings of enemy movements. In appreciation William Halsey, the American Admiral, in a message relayed to this unique body of men said 'The Coastwatchers saved Guadalcanal and Guadalcanal saved the Pacific.'
Meanwhile Vice-Admiral Gumichi Mikawa, the able commander of the Japanese 8th Fleet, had sailed from Rabaul at 4.30 p.m. on 7 August in the cruiser Chokai. Some 30 hours later after having passed down 'the slot' between Santa Isabel and New Georgia islands, he arrived undetected off Guadalcanal with 7 cruisers and a destroyer. His plan was to carry out a night attack on the invader's shipping off Guadalcanal and Tulagi in the small hours of 9 August.
Two radar-equipped American destroyers patrolling off Savo Island and the entrance to 'Ironhottom Sound' inexplicably failed to detect Mikawa's approach. Then suddenly, at 1:43 a.m. on 9 August the American destroyer Patterson inside the harbour saw Mikawa's force and signalled: 'Warning, warning, strange ships entering harbour.' It was too late. Japanese torpedoes had already leapt from their tubes on their way to unsuspecting Allied naval targets and Japanese float planes dropped brilliant flares which silhouetted Chicago and Canberra as the Japanese cruisers, their crews tense and alert, opened fire. The action across Ironbottom Sound was of tremendous intensity and short duration. Within 2 minutes Canberra was hit by 24 shells. Captain Getting was mortally wounded, his Gunnery Officer Lieutenant Commander D. M. Hole was killed instantly and his ship was listing and doomed. Both engine rooms had been hit by the 2nd enemy salvo and all communications and power had failed completely.
Chicago had been hit by a torpedo but had managed to stay afloat. After attacking Canberra and Chicago Mikawa's raiders swung round Savo Island to get at the US Cruisers of the Northern Screening Group. His column divided as he turned and he caught the cruisers Vincennes, Quincy and Astoria in a devastating crossfire at close range. Fatally hit Vinceenes sunk a blazing and abandoned wreck. Quincy managed to fire one salvo but within minutes her decks were a shambles and her below decks an inferno. She sank at 2:25 a.m. Astoria stayed afloat the longest. Badly mauled she also sank at midday on August 9th when a magazine explosion blew a hole in her port side.
Having created great havoc, at 2:23a.m. Mikawa gave the order to break off the engagement and surprisingly made off up 'the slot' thus abandoning his original intention of attacking the American transports now within his reach. He was severely criticised for this omission. But he had to think of the arrival of daylight and the possibility of American carriers mounting air attacks on his force.
The Battle of Savo Island was one of the sharpest reverses suffered by the US navy in the war. It was, too, for the RAN. Yet the Japanese did not go unscathed. Chokai was hit four times and next day Kako, one of Mikawa's cruisers, was sunk off Kavieng by a torpedo from a US submarine.
At Guadalcanal the Pacific Allies had taken a first step on the road to Tokyo. but a bitter campaign lay ahead before the tenuous hold of the marines on Guadalcanal would be consolidated.
On Canberra, 84 men had been killed or would die later of wounds (including Captain Getting who still conscious after the action, refused all medical aid). The Americans lost 939 killed. Strenuous efforts were made to extinguish the fires in Canberra, but with no water or water pressure, bucket chains had to be used. Meanwhile Rear-Admiral R. K. Turner USN, who commanded the amphibious force, had decided to withdraw all shipping from Guadalcanal and at 3:45 a.m. the wounded Commander J. A. Walsh RAN, now in command of Canberra, was informed that unless the cruiser could be made ready to steam by 6.30a.m. she was to be abandoned and destroyed. No such objective was possible and Walsh was forced to order his crew to abandon ship. Canberra sank next morning after torpedoes from an American destroyer were fired into her. In total 263 rounds of 5-inch shells and four torpedoes were poured into her hull by Allied ships and on 9 August, 1942, she slipped beneath the sea. A Board of Inquiry was convened in Sydney within weeks of the action. The Board found that CANBERRA was not in a proper state of readiness, but judged the crew's behaviour 'satisfactory'
Writing later to Rear Admiral Crutchley, Patterson's Captain, Commander Walker USN, paid this tribute to Canberra's crew:
 

The Commanding Officer and entire ship's company of the USS Patterson noted with admiration the calm, cheerful and courageous spirit displayed by officers and men of Canberra. When Patterson left from alongside because of what was then believed to be an enemy ship close by there were no outcries or entreaties — rather a cheery 'Carry on Patterson, good luck!' — and prompt and efficient casting off of lines, brows etc. Not a man stepped out of line. The Patterson feels privileged to have served so gallant a crew.
In thirty-two minutes of gunfire and torpedo attacks the Japanese force had destroyed four allied warships.
Thus the RAN which began the war with six cruisers, had lost three of them in combat in less than ten months, together with a number of smaller warships — grievous losses for a comparatively small navy. But for the RAN the worst was now over. Moreover on the battlefronts of the war the tide was about to turn decisively against the Axis and their Japanese Allies, forcing them hence-forward on the defensive.
HMAS Australia had not taken part directly in the Savo Island Battle because Rear Admiral Crutchley had been ordered to attend a conference with Rear-Admiral Turner on the transport McCawley and had left Captain H. Bode of Chicago in charge of his patrol group. After the action commenced Crutchley ordered Australia to patrol about 11 kilometres west of the transports to intercept any enemy which might penetrate the cruiser screen. Hobart also was not engaged. She saw flares and the glow of burning ships on the horizon. After the battle, Admiral Crutchley steamed with Australia and Hobart to Noumea, where his ships were victualled, ammunitioned and fuelled.
After failing to dislodge the American marines from Guadalcanal immediately after the initial landing, the Japanese gathered a large fleet of warships including two battleships and the aircraft carriers Zuikaku, Shokaku and Ryujo to cover the landing of reinforcements which were to take part in an attempt to expel the Americans from Guadalcanal.
Australia and Hobart were assigned to the Saratoga Group Task Force 61. On 24 August aircraft from Saratoga operating east of the southern Solomons attacked Ryujo which sank four hours later. On 31 August Saratoga was hit by a torpedo which put her out of action for three months. The Australian cruisers then reverted to the operational control of MacArthur's command and reached Brisbane without further incident on 3 September.