HMAS Armidale - A Survivors Story
Submitted by Stones on Sat, 12/05/2012 - 11:14

'Bathurst' Class Minsweeper (AMS) - HMAS Armidale
Survival at sea: In the whaler after the sinking of HMAS Armidale in 1942. A personal account by Rex Pullen
I still can't believe I survived the Armidale sinking! After almost 56 years, it's still all a dream! These unbelievable stories from HMAS Armidale in which I was terribly involved seem like chapters from a fairy storybook. But it did happen.
Fate, no doubt, dealt me a good hand when Lieutenant. Palmer called my name to join the whaler crew. I can recall no good reason why he selected me. He scarcely knew me. As I read Frank Walker's book HMAS Armidale: the ship that had to die, I read Lieutenant. Palmer's account of how he chose me to row rather than that he regarded me, as "one who was showing signs of considerable nervous strain and whom he thought might be a danger if left on the raft"! Whichever, I'm still here.
It is now a well-known fact that Armidale sank at 3.15pm on 1st December 1942 after two torpedoes struck her in the port side. A near miss from a bomb didn't help much either.
My action station was loader on the starboard Oerlikon gun. I had watched our gunner, Lou Lyndon, fire at the Zeros as they flew in low to machine-gun the ship. He seemed to be spot on, the tracers seemed to penetrate the planes' windscreens and sides as they flashed over us, but the Japs didn't hesitate. They just kept coming.
I was on the deck, reloading a magazine, when the first torpedo struck. The ship instantly began to heel over to port and I heard Captain Richards' order to abandon ship.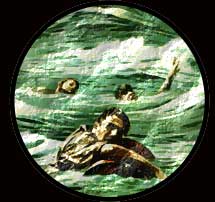 Everyone around me seemed quite calm as though it were an everyday occurrence, with my life jacket (or "blimp") blown up; I walked down the slanting starboard side and jumped into the water. It was a terrible experience. I could see bobbing heads and flailing arms ahead, so set out to join them. I wasn't far from the sinking ship when the second torpedo hit about port midships.
I felt little burning feelings in my legs and later I found tiny pieces of shrapnel sticking in to my skin! I swam on and joined a few blokes, pausing long enough to look back and see Armidale in her last death throes. She was at the perpendicular, with the quarterdeck still above water and the two propellers turning lazily. I swam on and took another look back. All I saw was a boiling mass where Armidale had been.
The Japanese planes continued strafing us as we swam and floundered about in the water. It was at this stage that I learned to hate the Japanese – firing on defenceless people at that stage struggling for survival. My attitude hasn't altered much. Slanty eyes with buck teeth filled with gold! Sneering, smiling, obnoxious little Bastards. After Pearl harbour and the Changi POW Camp, I felt these heathen bastards would do almost anything to perpetrate an atrocity.
For a bloke who had been invited to help make up a water polo team but who declined because of poor swimming ability, I was doing well. I think I passed some water polo players as I put distance between me and where Armidale had been! I really couldn't tell who they were because they were covered in crude oil, black and putrid. So was I!
The Japanese aircraft continued to strafe us as we swam wide of where Armidale had been. We had sense enough not to congregate but scattered about to give less of a target to these heathen bastards. I can't remember if it was only the Zeros that did the strafing or whether they were joined by their Bomber mates. Whatever, it was pretty horrific and cowardly, but as I mentioned before, what else should we expect? The A Bomb!! That should have been dropped much earlier. The Jap law – the only one they knew about – strike first and talk later.
Before our ill-fated voyage, we were tied up alongside a wharf. Leading Seaman "Bumble" Bool suggested that we collect any dunnage lying about the wharf as we returned from shore leave. We would bring this timber aboard and lash it with cordage to the guard rails. ""Bumble" thought this could be handy in an emergency. I recall bringing quite a few super feet aboard and helping to lash it to the guard rail.
Where HMAS ARMIDALE sank (Light Blue Pointer)
Fortunately, during the attack, some persons were near enough to be able to slash the timber free. So, The timber plus the cordage floated freely once Armidale had disappeared. This is for the benefit of those who have read Frank Walker's book and wondered why so much flotsam was available. Bumble's emergency had arrived! And that timber was to play a big part in our survival.
Talk about otters being busy! Flotsam was scattered over a wide area and we set to work to gather it and bring it to a central area, piece by piece. It was hard work but at this stage, except for those who were wounded, we were pretty fit. While some swam and collected, others stayed and built a raft. There was never enough cord or rope, so what we had was unravelled and tied together. There were always repairs to be done to the raft. Nevertheless, there were about 80 who could get some rest on it.
The sun was hellish by day but after sundown and during the night the air was freezing. No wonder we found a few missing at the sunrise roll call. There was no means of keeping warm except exercise. No point in trying to wrap an extra bit of water round our ears to keep warm! Sunshine began to thaw us but soon the heat was too much. As the day progressed, we were hit with pangs of hunger but the lack of something to drink was worse. We were aching all over, having spent most of the first night treading water and repairing the raft. Oh for somewhere to lie down and sleep!
On the second day, it was decided that Captain Richards should take the motorboat with some of the wounded and some fit rowers and head towards our Australian reconnaissance area. So a total of 22 left us, with our blessing, and steered towards Darwin.
We had found the whaler but it was submerged and floating just below the water line. I guess it was kept afloat by buoyancy tanks. Overnight, we had taken turns with our legs suspended in the whaler, using our life jackets to keep us afloat. The scenery above water was pretty miserable, only heads mostly covered in oil which gradually dried up as the sun boiled down. I was one of the unfortunates who had requested to grow a beard when we learned we were going to be stationed "up north", so as well as mattered hair. I'd gathered enough oil on my beard for a day's steaming! The oil was filthy and stinking and made it difficult to recognise anybody.
We organised a shark watch! Those who were unable to help with the raft because they were wounded would hold their head under water for as long as possible. If a shark were spotted in the clear water, we would all splash the water in an attempt to frighten the creature off. This worked well during the daylight hours but at night we simply had to take a chance.
Hunger! Thirst! Still no planes looking for us! The situation looked hopeless. Another cold and fearful night, followed by yet another hellish day. Day 3 brought no searching planes and no joy. We came to the conclusion that the Skipper hadn't been found yet and we were really down in the dumps.
Day 4 - and it was a very significant one back at the raft. It was decided that an effort should be made to salvage the whaler. Apparently, Lieutenant. Palmer and Leading Seaman Bool had discussed how we were to do it.
The stern of the whaler was badly damaged with a big hole just at the water line and above! Lieutenant. Palmer detailed enough sailors around the whaler and they were to swim alongside the sunken boat and point the damaged stern at the raft. Other hands were detailed to stand, sit, or whatever on the edge of the raft at which the whaler was pointed.
The weight of bodies depressed the edge of the raft to below the keel of the whaler. With a final effort, the whaler crew pushed the sunken boat as far on to the makeshift raft as possible. At a given order, the raft crew jumped back into the water. The rising raft acted ass a lever and lifted the stern of the whaler, thus spilling some of the water from it.
Above: HMAS Armidale

Above: Cut-away view of a 27' Clinker Built Whaler - Weight = 1 Ton
Two steel helmets appeared from somewhere and there were given to two smaller men who had the job of baling which they did and did well. Being small, they took up less room in the whaler. Naturally each helmet full of water taken from the whaler lightened it. As many as could were ordered to blow up life jackets as tightly as possible and surround the whaler. These men had to lift with all their strength while swimming with the boat. It was a long and painful operation but, centimetre by centimetre, we were winning. Finally, with most of the small holes plugged with pieces of rag and clothing, we had the boat up on the raft – or floating dock – and almost dry.
This was accomplished through sheer determination, grit and strength of character which I like to think related to young healthy Australians – if not today, then it did in the days of my youth. It must be remembered that in the 80-90 hours since Armidale went down, we had practically no food or water and had suffered badly from heat in daylight hours and from cold at night. Someone described our flesh as "tripe-looking". The continual submergence was having its unpleasant effect. The coral dust was penetrating broken flesh and ulcers were the result. The occasional rubbing of bodies against bodies or flotsam brought cries of pain. We were a weird-looking mob. In my case, I recall that the mattered oil in my beard and hair was cruelly uncomfortable. However, we worked on with no thought of giving up until we had the bigger holes in the whaler patched and plugged. When she was finally floated again, the intake of water was controlled by baling with the two helmets.
Floating again on the water, the whaler gave indescribable relief as we each were given a turn to rest our weary bodies. At this stage whilst resting in the whaler, I first realised that time was taking its toll. No food or water to speak of was quite evident. I was looking into faces covered in despair – and oil – and the eyes were sinking back into their sockets. I was pleased I couldn't see my oil sodden bewhiskered face – the clean-shaven blokes were bad enough.
That night we continually changed from treading water to a turn at sitting in the whaler. But the baling continued: it was a never-ending race to keep the water out.
Lieutenant. Palmer discussed the bleak situation with us next morning – the 5th day – and we all believed that the motor boat hadn't been sighted or something worse had happened to it. It was readily agreed that he (Palmer) should take as many of the strongest sailors in the whaler and head for Darwin. Perhaps if the skipper hadn't been lucky, then Palmer and his crew might be. It was worth a try.
Then Lieutenant. Palmer chose the 28 others to make up the 29 who would fit in the whaler. He was the only person who was capable of steering a course to Darwin. As stated earlier, I was selected but I don't know why. I hope that Lieutenant. Palmer had some hope in me as a rower!
The scene at the raft was not a pleasant one as we said a tearful cheerio to our mates. I became very worried at the time when we rowed out of sight of the raft folk. Was I deserting my mates? Was there a hope that could be sighted? Could help eventually be sent to the raft? These thoughts still haunt me. And I'll never know the answer. I will never know exactly what those of the raft were thinking.
Never look back – isn't that what we've been taught? Well, we settled down to a steady rhythm and set our hopes on reaching Darwin. Progress was slow because with only one whaler oar plus half a dozen smaller and makeshift ones, it was difficult to keep the boat on course. As I looked around the whaler with its holes all plugged and a huge repair in the stern, I realised that we were nearly "up the creek without a paddle". What a mess, just because a bloke in Darwin had said "Air attack is to be accepted as ordinary, routine, secondary warfare" On even terms, yes but in the case of Armidale, what a load of codswallop! I wished that same fellow could have been sitting on one of these thwarts with us and his behind was becoming more chafed with the continual sliding across the thwart as pressure was put on the oar and his broken blisters were turning into tropical ulcers because of the infestation of the coral dust! It's a cruel world at times
Imagine 29 men in a boat 27 feet long, probably 10 trying to row, 2 baling, and 17 others trying not to get in the way of the workers. Imagine lying on the bottom of the whaler in water 6 inches deep, the legs and feet of rowers continually brushing or rubbing your body and the tin hats of the balers spilling down your festered body! Not a nice picture. Not a good story but very true. How much can the human body stand? I guess we had some sleep but I can't remember ever waking up. The night was bitterly cold again but at least as we took our turn at rowing or baling we were able to keep a little warmth in our body.
Bill Lampshade used his pusser's knife to cut up some floorboards. He then used the knife to extract a screw or two from the boat. He eventually screwed the boards together and fashioned a tiller which helped to keep us on a straighter course.
Day 6 and the motor boat mob was picked up by HMAS Kalgoorlie but of course we didn't know this at the time.
Day 6 for the whaler crew was, if anything, worse than Day 5. Of course, we were quickly using up our energy and our sores were getting worse. Even to hold the oar was an effort with our cracked, swollen and festering hands. How long could we last? This too was the day of the Pacific Gull which obligingly landed on an extended oar, As the oar was gently pulled into the boat, the bird stayed very still until it was within grabbing distance. Then it realised that it still had wings and flew off. Later, it returned to the oar we offered but again flew off just as we were about to grab it. I can remember that, had it been caught, we'd have eaten it, feathers and all!! Today, 56 years on, what a terrible thought!
Another freezing night! It was always better to be rowing at night. Our behinds were getting so ulcerated that it was agony to try and sit as we rowed. Our progress was slowing. A tired body with skin peeling from sunburn is not much value in this situation.
By this stage, clothes were freely given to make sails which we tied together and hoisted on a long oar, hoping to catch any draught that happened along. Of course, some sailors were in a seriously weakened condition and were offered extra clothing to help keep cold out and to prevent the sun from fiercely burning them. Some of us were still offering prayers for help and our thanks for survival to this date. In our position, praying was easier than rowing!
Day 7 came and now I'm confused because I think this was the day of the Gull! However, it doesn't matter much. The bottle of water was found to be empty, Someone stated to Frank Walker that the water was stolen from the lemonade bottle, Whoever told the story stated that two men were responsible and that everyone knew who it was. I disagree. I didn't know who had taken the water and the storyteller didn't either. But because two men were sitting near it, they got the blame. One was my friend and I wouldn't believe he'd do such a thing. In fact, I know he wouldn't! No-one was seen to do it. Anyone could have been responsible, Most of us were going bonkers and wouldn't have been responsible for our actions. As far as I'm concerned, It's a mystery and will remain that way.
On this day we'd become accustomed to being hungry and lack of food wasn't much of a problem. But, thirst was a different matter. Tongues were swelling and we needed water. We were all craving for liquid, preferably water. Thirst added to the torments of ulcers, broken skin, swollen joints. We were so desperate that we caught the little bit of urine we could muster in a rusty bully beef tin and tried to drink it. Not a lot of luck but at least it moistened our mouth and helped to delay the swelling of our tongue. It was terrible! Disgusting – but life is sweet! Ugh! The less we think about this, the better.
We battled on. The least little thing would start an argument. We were skinny and terrible to look at, ribs well to the fore and the oil in our hair and whiskers had dried out and was brittle and bent our hair into strange shapes. I didn't think it was possible to live in these conditions. Attempts to swim ashore were common and the offenders were dealt a heavy whack and were often knocked out for the count of 10! On regaining common sense, the offender would return to his usual calm and would settle down. It was a shocking time.
Sharks and sea-snakes were still with us and the occasional bloke who went over the side was quickly pulled back aboard.
I think on the eighth day our prayers were heard and answered. The sky clouded over early in the day and squalls narrowly missed us. But in the end a light rain fell and it was the most wonderful feeling to find it splashing lightly on our bodies. We were ready for this happening. With deflated life jackets we were able to catch sufficient water for each man to have a reasonable drink and still have a few pints in reserve. Some had split their life jacket open and caught the run-off in them. Wonderful water! The filthy old urine tin came in handy – a bit on the nostril but who cared? This drink seemed to give us new life. Even the pain from the ulcerated behinds seemed to vanish. Our spirits were up and it was "Look out Darwin, here we come!"
It was at this stage that I was dubbed "Ordinary Seaman Pullen with the radio-location ears". I thought I heard and aircraft and shouted for silence. But no-one else could hear it. I stuck to my guns and said an aircraft was near. Everyone searched high and low for a plane. I was sure it was getting closer and eventually others heard it too. A few minutes later, not only could we hear the plane but it hove into sight.
Lieutenant. Palmer asked for calm. There was no sense in having put up with days of hell to find that we had broken up our friend the whaler through sheer undisciplined behaviour. It was a Catalina flying boat and it headed towards us. But it turned away from us and disappeared. Presently it returned and this time flew over us and around us. Signal lamps blinked from the plane and the message was received by our signalman. Answer was returned by semaphore. As the plane circled round us, it dropped a bundle into sea. We paddled toward the bundle and found it to be a blanket. Inside the blanket was a note which said "Your captain is safe. We have found the raft. Dropped them all our food and water and now we are returning to Darwin to send out a ship for you."
At this moment Lieutenant, Palmer realised there was no point in continuing to row. The Catalina crew had noted the exact bearing where we were, so why move away? The ship would come to us. We were told to stop rowing. Had our prayers been answered? Definitely.
The effort over the past few days had been well rewarded. Suddenly we realised that our work was done except for the balers. So, the two hats were passed around the fittest of us and the never-ending baling continued. We simply couldn't allow the volume of water to increase inside the whaler.
What amazed us was the most of the time since Armidale had been sunk, the weather had been good and the seas calm. At the time we were sighted, the water was too rough for the Catalina to put down on the sea!
We knew we'd have to settle down for at least one more night and we did just that as gently as possible. No bodies were ever more broken that the 29 inmates of the whaler. It was simply impossible to get into a comfortable and painless position. So the night passed, long and cold and very painful – and with no rowing to occupy our minds or the warm our bodies. A turn or two at baling and the sun came up again to mercilessly burn us – burn upon burn!
Daylight and still no ship to be seen but surely rescue was getting closer! Not long after, a plane appeared – a Hudson bomber – soon to the followed by more Hudsons. Have you ever seen grown men cry? What a pathetic scene.
This was 13 Squadron of Hudson Bombers. They flew over us, dropping parcels of food. Sharks or no sharks, we were over the side, attempting to rescue as much as we could. Four-gallon tins of water were dropped and it was a struggle to get a couple into the whaler – we were so weak. Eventually we had rescued as much as our weak bodies would allow so we set about having a feed and plenty of water.
What a change had come over us. Most of us were laughing and joking as if we were just out on a training run on the bay. Tucker and water! You bloody beauty! There was also a message from 13 squadron. "Merry Christmas, Boys. 13 Squadron takes off their hats to you, even though you nearly shot us down." They referred to an incident which occurred about the second morning after we had left Darwin. Thirteen Squadron approached us from directly ahead and just above water level. A sitting duck for our 4-inch gun! We signalled for identification but they ignored us. By this time, our gun was trained on them and the order to fire was given. Instantly, these planes – about 9 of them – spread out like a huge fan and signal lamps quickly blinked out that they were friends. This was possibly the only decent shot the gun crew ever got in!
More food and another note was picked up. "a corvette will pick you up in about 3 hours. We have given it a course to steer."
HMAS Kalgoorlie hove in sight right on time. She hove to and we rowed alongside to her scrambling nets and were soon helped aboard by wonderfully kind crew members.
Our legs were like strips of liquorice and we had to be carried in to the mess deck where lovely hot soup or stew was being issued to survivors -–for surely that's what we were now! The sheer luxury of Kalgoorlie's mess decks was only bettered by their showers. After a feed or as much food as we could manage, each one of us was carried to the showers where we sat or knelt on the deck while Kalgoorlie sailors helped us clean ourselves up. Boy, oh boy! – soap and hot water! What a combination! What a luxury!
You won't believe that we were no sooner back on the mess deck when the "Action Stations" alarm was sounded! I must say that my confidence was tested. However, one shot from Kalgoorlie was the only bit of action! A Jap bomber had sighted the ship but kept its distance and then flew away.
It was then that I realised my glands on the left side of my neck were extremely swollen. Up until now I hadn't noticed but suddenly I was in great pain Only a bit more pain really. We were all chocka with pain from the top of the head to the tips of our toes.
We enjoyed a good sleep as Kalgoorlie conveyed us to Darwin and the hospital where we were united with the Captain and his mob from the motor boat. I must admit that I have very little recollection of our arrival. I think I may have headed for "Fantasy Island". I have been told that Commodore Pope lined us up on the wharf and spoke a few words of welcome. I can't help but think he'd rather we'd been lost at sea. Our arrival didn't help him much.
I forgot to mention that Lieutenant-Commander Litchfield – Kalgoorlie's skipper – asked whether we would like the whaler to be brought back as a museum piece. "Yes please" was our definite answer. The Kalgoorlie crew brought two strops and put them under and round our whaler and brought it to the mine-sweeping winch. They began to lift it out of the water but, before they could bring it inboard, this beaut boat which had saved 29 men simply broke up into matchwood. We were very disappointed but we realised just how close we'd been to Death's door over the last few days!
Now back to Darwin. We were taken to the hospital where we met the Skipper's motor boat men. It was made known to us that the raft and its mob couldn't be located. They had vanished/ and to this day, nothing is known of what happened to them. Their disappearance after being sighted is a compete mystery.
We were warned that we must not speak about Armidale's loss! We Were almost treated as suspects, as though we had purposely sunk the ship.
I was put in what I termed "the fattening pen". The other survivors were in a big ward but I was later taken to the "fattening pen". It was about 8' x 6' with a single bed. The walls were only mosquito or fly wire. I think I was there because I had "suppuration of the glands". I didn't think it was infectious but it was sore. Whilst on this subject, I will tell you that within a few days the doctor and his team of heavyweights took me to another room, hardly a theatre threw a hunk of cotton wool over my nose and began pouring chloroform on the cotton wool. I thought 29 rotten blokes in a whaler stunk but they were as eau de cologne" compared to this muck. Eventually I lost the battle and wafted away into never-never land. During my spell in that land. " The bloke" opened the glands and cleaned them up. After much vomiting and saying a few words about the parentage of the doc and his mob, I arrived back at normality. I must say that life was more pleasant without that "gunk".
It was wonderful to be safe and sound in Darwin and particularly in the hospital. We were treated well there and the bed was very cosy. No more sun to burn by day nor the chilli air to freeze us by night. Plus, of course, the essentials to look like normal humans. One by one we were sent to various hospitals to do the more serious operation. One thing I will never understand is why Ted Morley – the bloke with his jaw shot away – wasn't flown out much more quickly than he was. Ted was flown out from Darwin six days after being admitted. He was to be operated on in Brisbane only to find he had to continue to Sydney before major operations to get his jaw repaired.
As for me, my cousin Chief Petty Officer Keith Pullen was stationed at HMAS Melville. When Keith heard I was in Darwin Hospital, he came at the double. What a champion bloke with a great sense of humour. I was on a very strict diet. You'd have thought the hospital staff was trying to take weight off instead of fattening me. I had lost two and a half stone in the ten days since Armidale went down. Now, Keith sussed the joint out and realised he could visit me about 6 O'clock each night. He'd arrive with a small tin of preserved peaches plus a small tin of Nestles cream, both opened. He'd enter the fattening pen and take up his position behind the door. He'd then tip the cream into the can of fruit and hand it to me with a spoon. I quickly shovelled the fruit down my throat and gave everything back to Keith. Then he'd disappear and destroy the evidence! Thus he assured me of more years to follow! Great stuff! I have always said that Keith was the bloke who saved my life and I meant it.
During my stay in hospital. I saw the Red Cross once and they gave me a washer and soap, toothbrush and toothpaste, even though I had no teeth. When I suggested some clothes, they told me I'd be kitted out when I got the Melbourne! I must admit that I had a pair of shorts, a shirt and a pair of shoes which the kind crew of Kalgoorlie had handed me. I was still wearing them when I reached Melbourne weeks later! They must have been on the nose by then!
I could continue this saga but enough is enough! What has always amazed me is the crook treatment and the bad press we Armidaleans received from the Navy – this navy which I really loved took until 1992 – 50 years after the event – to forgive us and hand out a bouquet or two. Our wonderful Skipper, Lieutenant-commander Richards, wasn't given another command, but Lieutenant Whitting who lay wounded in the motor boat was given command of another corvette – HMAS Colac, I think.
Above - LCRD David Richards, RAN, CO HMAS ARMIDALE
In conclusion, I would like to make the point that, over a period of 56 years, my memory may have slipped a cog or two. However, as I read through this account, I am confident that what I've recorded is about spot-on. No doubt each survivor has his particular story to tell but mine is full of admiration for the tenacity and sheer determination of those concerned to survive and try to get help for our mates on the raft. History will tell that we accomplished what we set out to achieve but the sad part is that the raft and its occupants disappeared the day after the RAAF had reported finding them. For us, that was a sad conclusion to what in other respects was a successful mission.
Must Read - Click here Not shunned by the Navy – the strange story of HMAS Armidale's Commanding Officer - Lieutenant Commander Richards By former Naval Officer, Historian and Author Dr Tom Lewis, OAM.
Above: HMAS Castlemaine (AMS) sister ship of Armidale - now a
floating Museum at Williamstown, Victoria.
Reproduced with the kind permission of Rex Pullen
with a special thank you to Chief Petty Officer David
Youell, Recruit Training School Instructor, HMAS Cerberus.