Task Force Hong Kong
Submitted by Stones on Mon, 15/12/2014 - 05:21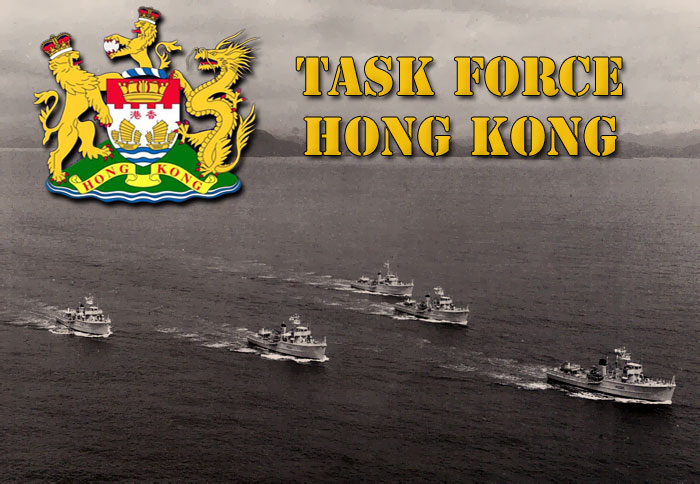 HM Minesweepers Beachamption, Yarnton,  Wasperton, Wolverton and Monkton
THE FIRST REAL squadron to be based in Hong Kong was the 120th minesweeping squadron, which sailed into Hong Kong waters in October 1958. It consisted of HM ships Damerham, Dansham, Davenham, Glentham and Hovingham.
After four years of successful operation it was decided to reinforce the Hong Kong Squadron, and in October 1962 HM ships Dufton, Penston and Lanton of the 8th minesweeping squadron arrived to make up the numbers. These ships carried out frequent Borneo patrols until the end of the confrontation in Malaysia in 1966.
In 1967, economy measures were introduced, one of which was to move the squadron to Singapore, leaving only a guardship in Hong Kong. HMS Chichester which was stationed there

from 1974 until 1976. She was Hong Kong's last guardship and the China Fleet Club's Chichester lounge was named after her. In 1969 the 6th mine countermeasures squadron was permanently transferred to Hong Kong. The squadron consisting of HM ships Maxton, Bossington, Kirkliston, Sheraton and Hubberston adopted the Chinese dragon on their squadron badge and displayed it on the funnel of each ship, a tradition which continues to this day.
1971 saw the replacement of HM ships Bossington, Sheraton, Hubberston and Maxton with Beachamption and Yarnton. While in the next year Wasperton, Wolverton and Monkton completed the new look Hong Kong squadron renamed the 6th patrol craft squadron,in line with its new role.By this time minesweeping equipment had been removed from each vessel.

HMS Chichester, Line Ahead with HK Sweepers.
The next major event in the history of the squadron took place on 19th November 1984 when HMS Peacock and HMS Plover arrived in Hong Kong. These were the first two of a new class of vessel designed especially by Hall Russell of Aberdeen for service with the Royal Navy in Hong Kong. HMS Starling joined the squadron in January 1985, and HMS Swallow followed it in April with HMS Swift joining later in the year. The new Hong Kong Squadron was now complete.
This however was not the end, in 1988 HMS Swallow and HMS Swift departed these shores together with the 3rd Raiding Squadron Royal Marines. This left HM ships Plover, Peacock and Starling each with its own marines detachment to continue, as they do today, with the spirit and determination associated with the Hong Kong Squadron.
The squadron's primary role was to assist in maintaining Hong Kong's stability and the integrity of her territorial waters. It co-operated closely with the Royal Hong Kong Police, the Immigration department, Marine and Customs and Excise departments. It also functioned as an ocean search and rescue service. The squadron was called in to perform these tasks regularly, with high risk Anti-Smuggling Ops thrown in for good measure.